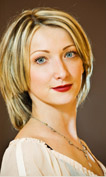 Ms. Anna Fateeva-Kazantseva was born in Moscow, and began her dance training at the Academy of the Bolshoi Ballet at the age of nine. She graduated in 1992 and joined the Moscow Classical Ballet Company. Anna performed a number of principal roles in ballets such as the "Nutcracker", "Swan Lake", "Giselle", "Don Quixote", "Cinderella", "Romeo & Juliet" and many more. She accompanied the Company on many world tours, dancing in Japan, Italy, France, Norway, Ireland, Spain, Sweden, China, Mexico and other countries. In 1998, Anna moved to the United States and continued her career as guest performer for the Eglevsky Ballet, the Leggz, and the Tressor Dance Company. In 2000, she joined the Broadway Dance Center in New York City, and most recently, the prestigious Ballet Arts, as a ballet instructor.
In February of 2006, Anna became a partner and the artistic director of an innovative dance school, sharing the unique knowledge and technique inherited from her world-renowned ballet teachers at Bolshoi with every child who joins the magical world of dance at Nika Ballet Studio.
Since January of 2007, Anna's students presented five full-length ballets and numerous divertissement performances on stage of Millennium Theater, went on to win several first-place prizes in Miss Olympic Dance Competition, and performed Anna's original choreography on Broadway at the Symphony Space Peter Jay Sharp Theater as well as at the Tribeca Performing Arts Center. For the past nine years, the performances of this special dance company have been welcomed with great enthusiasm and appreciation in the Russian-American community.
In 2010, Anna co-founded the New York Children's Dance Theater with the aim to further develop performance opportunities for young dancers of Nika Ballet Studio, and continues to inspire her students and audiences with unique choreography and remarkable approach to dance education and children's performing arts.